Firewood & Mulch for sale in Adelaide
Bradleys Tree & Stump Removal
Call us now on 0419 846 584
Firewood and Mulch Sales
We love our trees and the beautiful environment they create so we make sure when we fell a tree, nothing goes to waste.   We offer great prices on bulk quantities of mulch and trailer loads of firewood to families, farms and business in and around the local area.  So if you want a cost-effective supply of mulch or firewood simply call us to check on availability.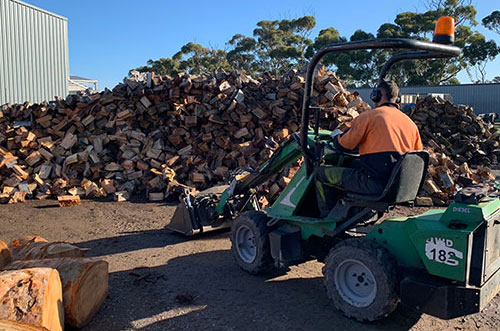 Mulch Sales
Mulch is a great way to provide a protective layer over the surface of the soil to ensure it retains water and is protected from weeds.  Being 100% natural it is readily biodegradable and breaks down to provide essential nutrients to the soil.  Our mulch is available by the truckload in quantities of 12-15 cubic meters.  We offer a fast and reliable delivery service but please call ahead to check availability.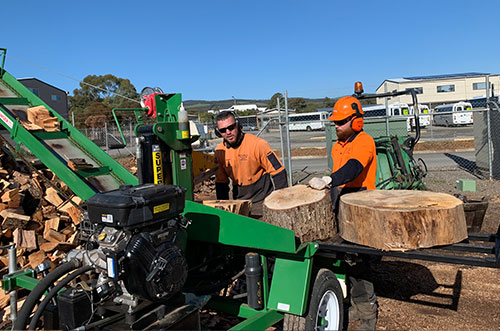 Adelaides most cost-effective source of firewood
When we remove large trees, we sort the timber into different species and set it aside in our woodshed for a minimum of a year.  This seasoned timber is then fed through our commercial splitter and transformed into kindling and firewood.  Our split and seasoned firewood and kindling is ideal for wood burners, combustion stoves, chimeneas and pizza ovens and is a great way to keep your house warm and cosy during winter months.
Split and seasoned firewood
We offer a range of different firewood based on the species of tree and sell it by the heaped trailer load at amazing prices.  You can choose from premium gum or budget firewood.
Pre split and seasoned ready to load into your wood burner
Affordable – Great prices so you can stay warm without the worry
Sourcing great quality firewood has never been easier, simply call ahead and we can load up your trailer or arrange a delivery for you.  
Our location – Unit 1/8 Jay Dr, Willunga SA 5172