Tree Stump Removals in Adelaide
Bradleys Tree & Stump Removal
Call us now on 0419 846 584
Tree stump removal – creating extra space in your garden
Enjoy some extra space in your garden by removing your tree stumps.  Let's face it, tree stumps can be an inconvenience in the garden –  they don't add to the aesthetic, they take up plenty of space and if they are positioned on your lawn mowing around them is a real pain.  Our experienced team of arborists can make light work of removing a tree stump so you can get full use of your garden and clear the dead space for a shed, decking, flowers shrubs or lawn.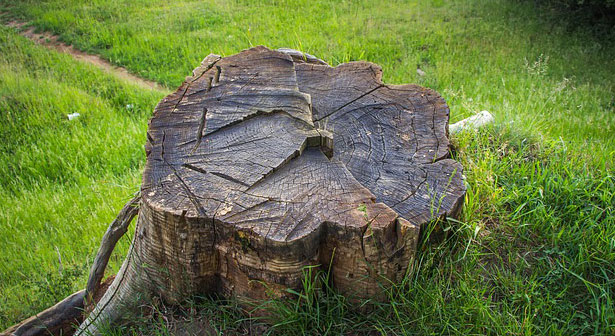 Why we recommend tree stump removal
Once a tree has been felled we always recommend removing the tree stump.   If the tree is still alive the roots will be taking nutrients and water out of the soil and it can reshoot and grow to cause damage to your underground infrastructure.  Alternatively, If your tree is dead, not only will the stump look unsightly as it starts to rot and decay, but it will be a haven for borers and a juicy food source for termites (white ants) – and we all know that once termites are on your property your house may be at risk.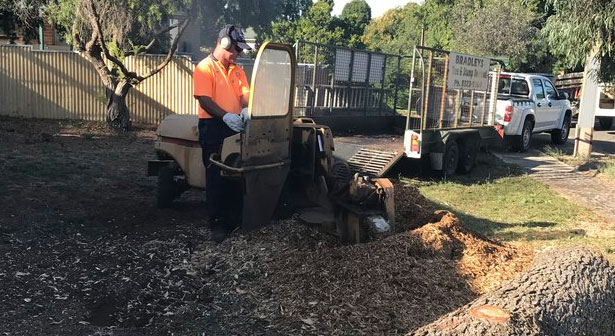 Stump Grinding made easy
You may be tempted to remove the stump yourself but without the proper equipment, it will be time-consuming and back-breaking work.  We think you'll be pleasantly surprised at our prices and just how well we compare to hiring equipment and doing the job yourself.  Call us for a free quote and let us take care of the hard work to save yourself the time and effort.  Our professional stump grinding equipment makes light work of even the hardest of trees and you know you'll get a professional and thorough job at a competitive price.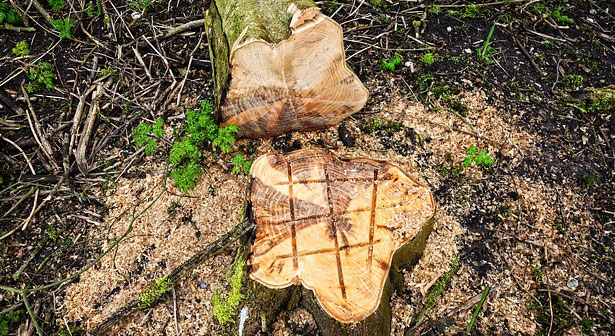 Professional tree stump removal
Our arborists are professional stump grinders and with 25 years in business, we've seen and removed all kind of stumps including huge gum trees, palm trees, eucalypts, wattles and fruit trees so size and shape is no issue.  We'll cut down any trunk above ground and use our specialist grinder to take out the stump and main root ball.  For larger thicker stumps we grind the stump above ground and attack the roots underground around the diameter of the tree.  The root system is then fed through the chipper and mulched on-site and used to fill the voids left by the roots.  The root system will be totally destroyed so there will be no regrowth and plenty of space to plant new flowers and shrubs or to make way for an addition to your back yard.
Fast, reliable and fully insured
The friendly and experienced arborists at Bradleys Tree and Stump removal always go the extra mile to deliver expert advice and a fast, friendly service.   We're fully accredited and insured and offer professional stump grinding solutions at affordable prices.
Want to get some help and advice on your trees? Call or message us for a free visual inspection and quote.